GENERAL EDWARD S. BRAGG
BASIC FACTS:
Date of Birth: February 20, 1827
Where born: Otsego County, New York
Death: June 20, 1912
Where Buried: Rienzi Cemetery, Fond du Lac, Fond du Lac County, WI
Place of Death: Fond du Lac, Fond du Lac County, WI
Father's name: Joel Bragg
Mother's name: Margaret
Wife's name: Cornela Coleman
4 other siblings in family when growing up
Had 3 children: 2 daughters and one son that had died
Braxton Bragg a Confederate General was a relative
BRIEF HISTORY PRIOR TO CIVIL WAR:
When he was 3 weeks old, there was a fire in his home and his father saved his life by handing him to someone out of the window.
In 1838 he attended Oxford Academy.
In 1847 he left Oxford Academy to become a law student
In 1854 he married his wife Cornela Coleman in Rochester, New York
In 1856 came to Fond du Lac, Fond du Lac County, WI
In 1860 he was elected to District Attorney in Fond du Lac, WI and in the same year he was elected to Democratic convention.
Was a member of St. Paul's Cathedral in Fond du Lac, WI
BRIEF HISTORY DURING THE CIVIL WAR:
May 12, 1861 was captain of Company E of the 6th Wisconsin Volunteer Infantry
September 7, 1861 was promoted to major
June 21, 1862 was made Lieutenant Colonel
Lieutenant Colonel made a comment in Virginia he pointed to a farm house and said to his men "I don't want to see or hear you do any forging there and now I'm going to take a nap". The army had posted there was not going to be any forging of Confederate enemy supplies.
March 24, 1863 was made Colonel after the second day of the wilderness campaign
and was put in command of a Pennsylvania Brigade.
Was in battle of 2nd Bull Run (was where his brigade earned their name of Iron Brigade which he commanded most of the war), Antitiem, South Mountain, Fredricksburg engagements
In Antitiem was wounded in the left arm from Dunkard's Church that prevented him going into Gettysburg Iron Brigade. When he was wounded by mistake he was listed as slain and his wife received a wire and it said he was killed and his body would be sent home. It was a while before it was straightened out. General Gibbon wrote "never believe your husband is dead till he writes you so".
At Chickahominy he was put back to commanding the Iron Brigade
At Petersburg he was knocked off his horse by a cannon ball
May 6 - June 6, 1864 commanded the 3rd Brigade 4th Division First Army Corp of the Potomac
June 10, 1864 Hooker (commander of the General Army) promoted him to Brig General
1865 he went home to Fond du Lac, WI
BRIEF HISTORY AFTER THE CIVIL WAR:
1868 - 1869 Was a Wisconsin State Senator
1876 was elected to represent the 6th district in Congress - served 6 years
1879 President Grant came to Fond du Lac, WI just to see Edward S. Bragg
1885 was elected to represent the 6th district in Congress again
January 17, 1888 President Cleveland ask him to be an ambassador to Mexico and he did that till 1889
Had also a diplomatic to Cuba and Hong Kong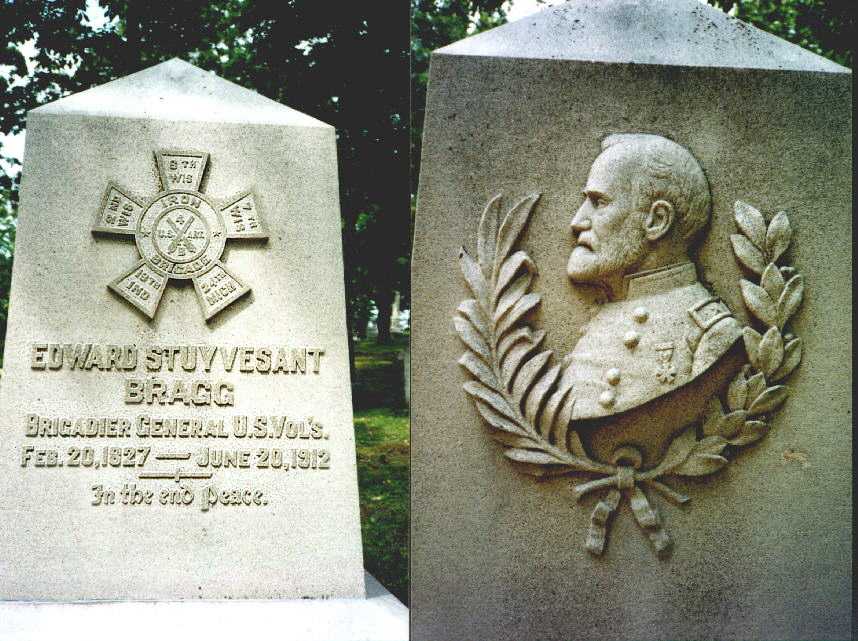 (Rienzi Cemetery Fond du Lac WI)