General Lucius Fairchild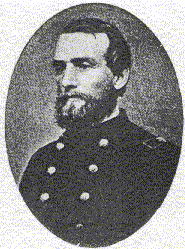 Basic Facts
Date of Birth: December 27, 1831
Place of Birth: Ohio
Death: May 2, 1896
Buried: Forest Hill, Milwaukee
Parents:
Family: Had brother Casious Fairchild - severely wounded at Shilo
Education:
Brief history prior to Civil War:
Went to California in 1849 at 17 years old and returned 6 years later to Wisconsin with a pile of gold
Brief history during the Civil War:
Lost arm at Gettysburg and shattered left elbow
Fought with the Iron Brigade.
April 17, 1861 - Was private in 1st Wis.
May 17, 1861 - promoted to Captain.
August 20, 1861 - promoted Lt. Col. for 2nd of Wisconsin
October 19, 1863 - promoted to Brig General
Fought at the battle of Falling water
August 28, 1862 at Groveton, took command after Col. O'Connor was killed.
Commanded the 2nd Wi at Fredricksburg and Chancelorsville
July 1, 1863 fought at the battle of Willoughby Run - west of Gettysburg and then wounded.
Survived the battle of Gettysburg with only a hand full of men. All field officers were killed or seriously wounded
Brief history after the Civil War:
Became secretary of state
Defeat Harris Hobart for governor in 1865 became 9the Governor of Wisconsin and served three terms.
Was very bitter towards the South after the war
Was head of the Grand Army of the Republic in Wisconsin.