GENERAL CHARLES S. HAMILTON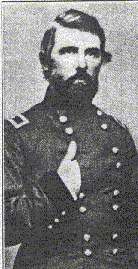 BASIC FACTS:
Date of Birth: November 16, 1822
Where born: Unknown
Death: April 17, 1891
Where Buried: Forest Home Cemetery, Milwaukee, WI
Where died: Unknown
Wife's name: Sophia Shephard
Father's name: Unknown
Mother's name: Unknown
BRIEF HISTORY PRIOR TO CIVIL WAR:
West Point graduate & classmate of Ulysses Grant
During the Mexican War was wounded at Molinodelray, Mexico .
1853 he was farmer and a flour manufacture in Fond du Lac, WI
BRIEF HISTORY DURING THE CIVIL WAR:
Hamilton was Colonel of the 3rd Wisconsin
February 1863 during the siege of York Town General McClenan removed him from command.
He had failed to take advantage of a weak Confederate position at Corinth due to vague orders.
At the battle of Luka the force of 2,800 men he met and conquered force of 11,000 on a field chosen by his enemy. He had his horse shot out under him and hit hilt of his sword shot off. General Hamilton succeeded General Rosencrans of the 14th Corp.
He used political pressure and accused General Grant of being a drunker to get command of the 17th Corp but Grand could only give him a division and under pressure General Hamilton resigned in April 1863.
BRIEF HISTORY AFTER THE CIVIL WAR:
1869 served on the UW Board of Regions and a US Marshall for the District of Wisconsin. Hamilton Place in Fond du Lac, WI was named after him. He lived on the West end of the street. Sophia Street in Fond du Lac, WI was named after his wife.