General Rufus King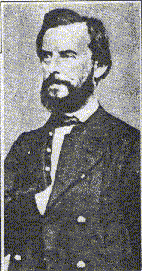 Basic Facts
Date of Birth: January 26, 1814
Place of Birth: In New York
Death: October 13, 1876
Buried: Jamaca, New York
Parents:
Family:
Education: Went to West Point in 1833
Brief history prior to Civil War:
Was a newspaperman and politician.
Brief history during the Civil War:
Was to be appointed as diplomat to the Vatican in 1861 but joined army instead.
Was the first to commanded the "Iron Brigade"
Had trained the future men that became the Iron Brigade
Also commanded the 5th Wisconsin
Resigned after the battle of Gainesville after being accused of mishandling the brigade.
King was accused of excessive drinking
Was sent to Washington to command fortification there briefly
Resigned October 2, 1863 for health reasons.
Brief history after the Civil War:
A high school in Milwaukee is named after him
Helped capture John Surratt one of Lincoln's assignation conspirators.
Later became a customs official