General Halbert Paine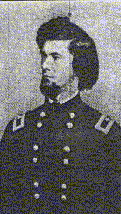 Basic Facts
Date of Birth: February 14, 1826
Place of Birth: Ohio
Death: April 14, 1905
Buried: Arlington
Parents:
Family:
Education:
Brief history prior to Civil War:
Brief history during the Civil War:
Was arrested as a Col. for refusing to return slave to their Louisiana masters and also refused to burn Baton Rouge when ordered by General Butler
Col. of the 4th Wisconsin
Was wounded at Port Hudson. He was left when his troops were forced back. He laid in the sun all day and survived because a New York private tossed him a canteen .That night a Massachusetts Regiment rescued him. He was went to New Orleans where his leg was amputated and went back to Wisconsin.
Was Quartermaster of 2nd Wisconsin.
Washington was in danger of being attacked. Sheridan was to protect Washington but his army was weeks away. General Franz Sigeh's army was defeated by General Dubal Earlys 12,000 men and were heading to Washington hoping to draw Grant troops back to defend the capital. By July 1864 Early was very close to the capital. There weren't many soldiers to protect the capital and it looked like Early could easily capture Washington. Paine was in Washington at the time as a member of the General Court Marshall Commission. When Paine heard about Early approaching, he went to the war department and offered to defend the capital. Even if Paine was missing a leg he was given a line of rifle pits between Fort Stevens and Slocum. But no troops. Paine being determined man went through Washington with others and recruited wounded, house staff clerks and any able bodied people enough to fight. He manned the rifle pits. Early's men could have easily took Washington but with Lincoln watching from Fort Stevens the 6th Corp arrived and drove them off.
Formed a partnership with General Carl Schurz
Resigned May 15, 1865
Brief history after the Civil War:
Served 3 terms as Congress
Was appoint patent commissioner by Carl Schurz
Introduced typewriter to government
Change patient applicants from models to written plans instead
Practiced law in the capital