General Thomas Ruger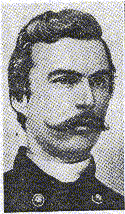 Basic Facts:
Date of Birth: April 2, 1833
Place of Birth:
Death: June 3, 1907
Buried:
Parents:
Family:
Education: Was a West Point graduate of 1854, was 3rd in his class.
Brief history prior to Civil War:
Was a lawyer in Janesville, WI
Was a veteran of Mexican War, served under Pierre Beauregard
Brief history during the Civil War:
Was sent to New York in August 1863 with the 3rd Wisconsin to put down draft riots
Commanded a division at Gettysburg
Commanded Schofield's army as Brig General
Was wounded at Antietam as Brigade commander led his Brigade at Chancellasville
His Brigade guarded supply lines in Battle Chattanooga
Commanded 11 and 12 Corp.
Fought at the Atlanta campaign
Faced Hoods invasion of Tennessee at Franklin was made Brevet Major General then went to Carolina coast with most of the 2nd Corp.
Joined Sherman for the surrender of Johnstons army
1867 was appointed Brevet Brig Gen.
Stayed on duty in North Carolina till September 1, 1866 then commanded regular army Rose to Major General was commanded of Dept. of the South 1876-78
Retired because of age
Brief history after the Civil War:
Frontier Commander of District on Montana 1878-1885 retired in 1895