G
eneral Jeremia Rusk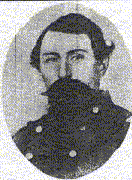 Basic Facts
Date of Birth: June 17, 1830
Place of Birth: Ohio
Death:
Buried:
Parents:
Family: Was married at 19
Education:
Brief history prior to Civil War:
Settled in Wisconsin in 1853 in Vernon County, Wisconsin
Was Governor for 7 years from 1875 to 1882 .
Was Sheriff in 1885.
Brief history during the Civil War:
Made major of the 25th Wisconsin, then made Col.
Was made Brevet Brig General for bravery at Salkehatchie - Rusk was surrounded and cut off. His sword was taken away. He then used his pistol very effectively and escaped with a leg wound trying to get back. He shot another confederate holding him at bayonet point.
Brief history after the Civil War: